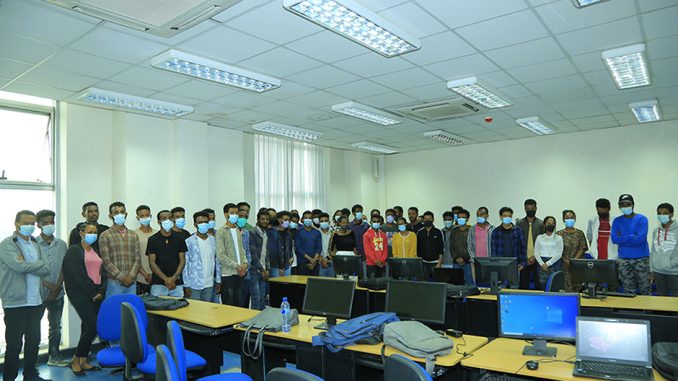 Office of Industry Linkage and Technology Transfer (ILTT) of Addis Ababa University (AAU), in partnership with the Orange Digital Centre (ODC), organized practical modern software development training to AAU students at the Main Campus (Sidist Kilo) digital library of the University from November 22 to 24, 2021.
According to the information from ILTT, the training was conducted for 3rd and 4th year undergraduate students from information science, software engineering and computer science fields. Fifty (50) students attended the training, the Office added.
Sources show that "Orange Digital Centre is a centre dedicated to delivering digital innovation and training to all, with a vision to support everyone to gain digital and entrepreneurial skills which increase the employability of the world youth in this area".
This first-round training conducted to AAU students is part of the collaborative engagement under the auspices of the AAU-ODC partnership agreement, designed and delivered by the ODC to introduce the main principles, best practices and supporting tools in the process of software development, ILTT indicated.
As mentioned by the Office, the training course included key tools that are a must to know in today's developers' community with a how to efficiently use them to be able to complete in the market.
The Office also stated that the second-round software development training will be given to the graduating class students on the course "Practical Agile Software Development", designed to facilitate the understanding and practices of agile software development.
Practical Agile Software Development, the current professional software development, training will be conducted for those who would like to join the job market, freelance works, or even for those who are engaged to start their own start-ups, the Office (ILTT) finally remarked.
By: Abraham Girmay
Photo: Fikremariam Beyene