Hult Prize Foundation conducted its 'On-campus' innovative competition event held among 12 teams of Addis Ababa University (AAU) students focused on creating business ideas which lead them to the next step of the competition (regional summit), at AAiT campus on the 26th of March 2022.
According to Kirubel Engidawerk, a fourth year pharmacy student at AAU and On-campus director of Hult Prize, this year's competition aims at creating more jobs and reducing unemployment for citizens.
Kirubel stating that this year's Hult Prize's On-campus challenge is its second time in AAU, three series trainings on business ideas, mentoring activities and semi-final competition among 30 teams have been carried out so far.
"Of the 137 teams registered this year for pitch, about 30 of them competed on March 19/2022 and 12 top of them qualified for today's competition. On the day's pitch, the top 3, namely, Agelgil, Mighty Morphines and TICVO) ranked 1st to 3rd respectively," Kirubel added.
As stated by Kirubel, while the top most winner, Agelgil, directly goes to the regional competition, the next two top winners, Mighty Morphines and TICVO will go to the semi-finals.
"What we have learned from the competition is that there is a lot of potential in AAU, and students can thrive if they are guided in the right direction. Although the contestants were identified by points, not by performance, from the point of view of judges, it was clear that the losers also have the potential and clearly growing business ideas," Kirubel insisted.
After winning the regional competition, according to Kirubel, they will advance to the Global Accelerator and Global Finals to be held in New York, from which the winner receives one million dollars.
Kirubel confirmed to the audience that AAU's directorate of Industrial Linkage has decided to take five top teams to incubate their business ideas in its laboratory and assist them to join the wider market opportunities. Kazana Group on its part also promised them to provide regular mentorship ahead, he added.
Blen Tesfaye, one of the judges, on behalf of the judging team said, the business innovative ideas in the competition are very open to attract many investors to join, have many customers, still many others will be willing to work in partnership and will have also wider market opportunities.
As the team representative stated to the media, the topmost winner, Agelgil, has a business idea (a phone application) of a method that can prevent students' cafe queue. It has so far been used in AAiST campus since its inception; it has created jobs for more than 40 individuals and it has a plan for the future of the technology to be extended to other universities.
"The Hult Prize is an annual, year-long competition that crowd-sources ideas from university level students after challenging them to solve a pressing social issue around topics such as food security, water access, energy, and education."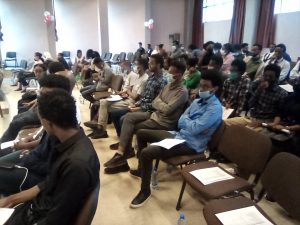 Editor: Abraham Girmay