Name of Principal Innovator: Getachew Teshome Woldegebreal
Lecturer, Addis Ababa Institute of Technology, Addis Ababa University
Tenant at Addis Ababa University Technology Business Incubation Center
Email: getteshome@gmail.com
Mobile: +251 994 61 73 66
Brief description:

The solar charging station is a containerized service station that generates electricity from the sun and provides Electricity Charging and other services to a rural community. Using Solar PV panels, energy from the sun is captured and stored in battery. The community can get charging service using rechargeable appliances. These include Chargeable lamps, Power Banks and Mobile Phones.

The charging station is located at the periphery of a school so that students are served on the inner side while the rest of the community is served on the outer side. School children bring their chargeable lamp to the charging station and get it charged through the day. After school, they take it home and use it for their night study. Likewise, villagers can get charging service for their mobile phones, power lamps and chargeable lamps.

With reliable Electric power and light, and furnished with TV and Refrigerator; it doubles as service station providing Grocery, Cafeteria, Milk Collection and Agency (Telecom & Banks) services for the community. Our business model is to install and franchise charging stations in partnership with Young Entrepreneurs, from each village, that co-own and operate the station in each village.

Stage of Innovation

– Piloting – Product Prototype has been developed, intatalled, tested, and have clear knowledge of target market and business plan, ready to launch

– As a tenant at Addis Ababa University Technology Business Incubation Center, funding has been obtained from the university to pilot the first charging station at a rural Elementary school near Butajira, Gurage Zone.
Modular Solar Charging Station for Rural Schools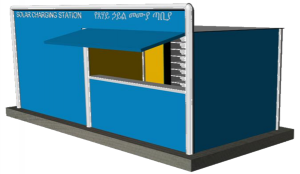 Community consultation: The principal investigator and experts from Industry-Linkage and Technology Transfer Directorate and Community Engagement Directorate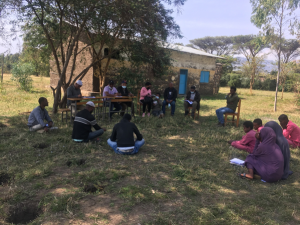 Preparing the foundation for the power station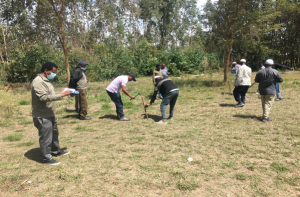 Prototype Solar Charging Station Built for Piloting